Back to Home
Himalayan landslide kills 20 while so many missing in fierce snowstorm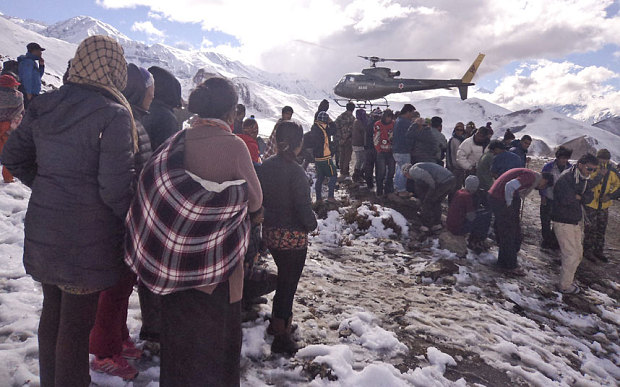 Nepal: A huge landslide amid ferocious snowstorm has killed at least 20 people in the Himalayas.
Nearly half of the victims are foreign trekkers while more than eighty people are feared missing. Among the 25 died, nine are foreign visitors.
They would have buried under snowfall and landslide.
As far as the mountaineering industry in Nepal is concerned, these are considered as deadliest days as per records.
Heavy snow has reported to have fallen across the Annapurna mountain range in central Nepal.
This is assumed to be an after-effect of Cyclone Hudhud, which had struck the east coast of India.
The blizzards were particularly intense in Mustang district, a remote region of Nepal popular for mountaineering.
Here, a rescue team patrolling in helicopter was found 12 bodies buried in the snow.
A police official said that two of the dead were Israeli nationals, one was from Poland, another from Vietnam and the remaining eight were Nepalese guides and porters.
Tourism based on mountaineering and hiking is a central pillar of the Nepal economy.
Video on Himalayan Avalanche

Comments