Back to Home
U.S. sends more warships near Yemen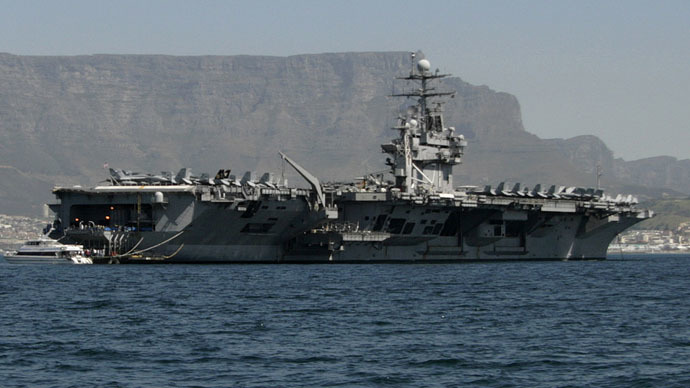 Washington: The U.S. Navy has sent an aircraft carrier and a guided-missile cruiser into the waters near Yemen. The move heightens the U.S. maritime security presence as there are concerns over the intensifying conflicts in Yemen.
The U.S. Navy is reported to have sent the carrier USS Theodore Roosevelt and its escort cruiser, USS Normandy, from the Gulf into the Arabian Sea. A pentagon spokesperson, Army Colonel Steve Warren, denied reports that the ships were on a mission to intercept Iranian arms shipments to Yemen.
These two warships will join with the seven other U.S. warships already stationed in the region. Currently, Yemen is struggling by civil war as Iranian-backed Houthi rebels fight against forces loyal to the U.S.-backed ruling president.
The U.S. Navy has increased its presence in the area because of the instability prevailing there. It said in a statement that the purpose of the US military presence was to ensure safety to the vital shipping lanes in the region.
It is said that the U.S. officials could monitor an approaching convoy of seven Iranian ships believed to be headed toward Yemen with unknown cargo aboard.
At the White House, spokesman Josh Earnest has acknowledged concerns about arms shipments from Tehran to the Houthis. He clarified that they had evidence for the Iranian weapon supply as well as other forms of assistance to the Houthis in Yemen.
According to him, such help would further deteriorate the conditions in a country that had already been racked by too much violence.
The Shi'ite Muslim Houthi fighters were sidelined the central government after seizing the capital Sana and occupying a broad swath of Yemen, which borders with the oil giant Saudi Arabia.
Saudi Arabia and its other Arab allies have launched air strikes in an effort to stop the advancement of the Houthis. The move from the Saudi Arabia was condemned by Tehran.
One U.S. official said that the presence of the U.S. warships near Yemen give American decision-makers options for action, in case the situation deteriorates.
The other U.S. warships in the region include two destroyers, two mine-sweepers and three amphibious ships carrying 2,200 U.S. Marines.
The United States has deepened intelligence cooperation with Saudi Arabia which carried out air-strikes in Yemen and decided to provide logistical support to the Saudi-led coalition, even if they are not directly participating in the actions in Yemen.
Video on the presence of US Naval ships near Yemen
Comments