Back to Home
UN launches $415m assistance in Nepal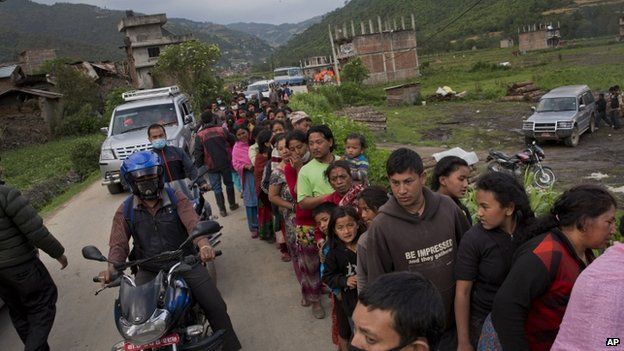 Katmandu: The UN has decided to launch $415m (£270) assistance for those affected by Nepal's earthquake amid prevailing frustrations regarding the pace of relief efforts.
The UN said it wanted to support government efforts and would provide emergency relief materials over the next three months.
Meanwhile policemen are reported to have clashed with people trying to leave the capital Katmandu. Villagers in the region were trying to block trucks carrying relief supplies offered by various countries in the world.
The government said that they had been besieged by the disaster.
The 7.8-magnitude earthquake that hit Nepal has killed more than 5,000 people while 10,000 injured. Meanwhile, the number of those killed by a landslide followed by the earthquake at Mount Everest base camp has increased to 19. According to the Nepal Mountaineering Association, five of the victims were foreign climbers while 14 were Nepalese Sherpa guides.
As per the UN analysis report, more than eight million people have been badly affected by the devastated calamity. They said that about 70,000 people would have become homeless followed by the earthquake.
Although the relief operations are in full swing, some people in isolated areas nearest to the epicenter of the quake are reported being stranded without shelter, food or water.
Resident coordinator of UN in Nepal, Mr. Jamie Mc Goldrick said that he was heartened and encouraged by the progress and response offered by the global countries till date. He has pointed out about the fundamental assistance to be maintained and stepped up and wanted to ensure that the relief supplies are accessible to all the affected, especially those in the remote areas.
Some helicopter crews who managed to land in isolated communities have reported that the villagers were requested them to be airlifted to safer places as they were in a desperate psychological condition. Meanwhile, thousands in Katmandu are waiting for buses to be moved to rural areas.
In Katmandu, protesters are reported to have clashed with police because of the lack of transport facilities to go out of the city. They were also complained regarding the delays in distributing relief supplies. However, there are reports that parts of the capital have been returning to normal.
Video on UN assistance to Nepal

Comments