Back to Home
An Indian boy's hands grow abnormally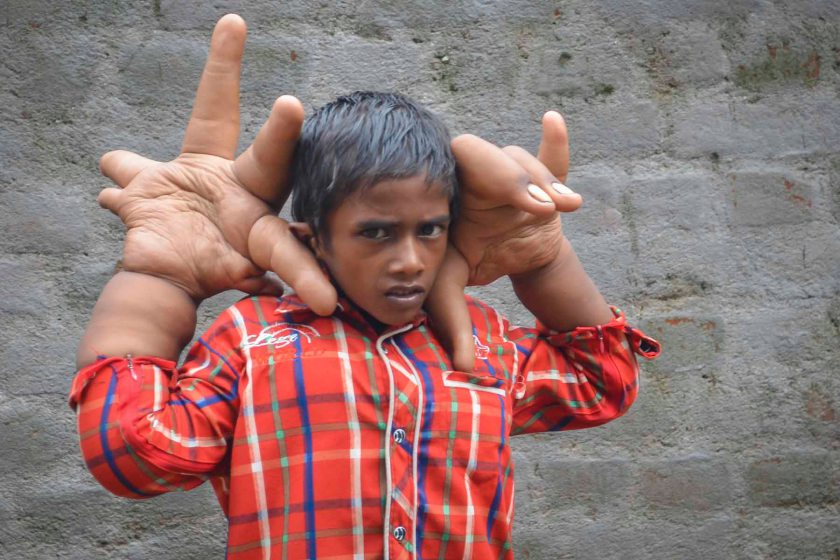 Delhi: The hands of an eight-year-old boy from India are found to have been growing abnormally. The boy called Kaleem is with hands having weight eight kilograms each and measurement 13 inches from the base of his palm to the end of his middle finger.
The boy is unable to do many basic needs.
He cannot go to school because the teacher is of the opinion that other kids may scared of the abnormal growth of his hands.
Some children even try to harm him for his deformity.
His mother Haleema, 27, said that Kaleem's hands were twice the size of a normal baby when he was born.
His hands were big and his fingers were long. Initially his fists were small but they began to grow large as well and his fingers also kept growing.
His father, Shamim, 45, who is working as a laborer, worries that his son can never be independent.
He has difficulty in feeding himself because his fists are not in a condition to fold properly.
His parents used to feed him whenever he feels hungry.
According to doctors the boy is suffering from either Lymphangioma or Hamartoma.
Lymphangioma is the abnormal growth of lymphatic glands that causes extreme inflammation in certain parts of the body.
Hamartoma ailment is a benign type of tumor where the body produces excess tissue.
Both these ailments are said to be treatable.
Video on the abnormal growth of hands

Comments