Back to Home
Bamboo crafts design center (Uravu) in Wayand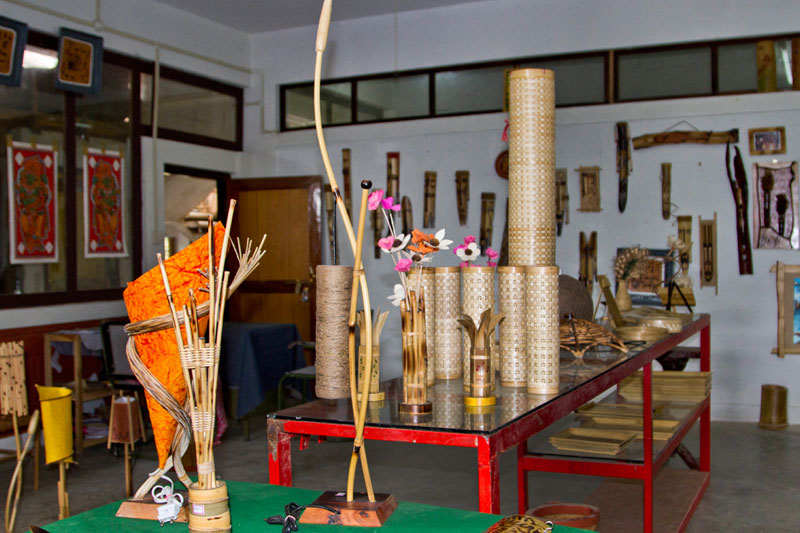 The bamboo craft design center in Wayanad is running by a non governmental organization called Uravu. The non-profit organization is committed to work for the indigenous development of science and technology in the tribal areas. The institution endeavors sustainable economic development by using the commonly available resources in the evergreen forest region. Apart from designing bamboo crafts, the organization has certain views to increase the production bamboo and also runs a bamboo nursery.
Uravu has already designed and created a wide range of decorative as well as functional products out of these abundantly available materials in Wayanad. The institution encourages the traditional technology and craftsmanship of the tribal people to create a variety of marvelous bamboo products comprising of utilitarian as well as decorative items. The tribes as well as the local people in the area are traditionally proficient in creating furniture, bags, handicrafts and other useful materials with bamboo. Thus, the organization is regenerating and rejuvenating the years old tradition of the local people. These activities of Uravu not only increase the job opportunities of the local people but also ensure restoration of the ecosystem in the mountain bounded forest areas. Thus, Uravu has been doing a good job to bring back the traditional craftsmanship which otherwise would have died down.
The craft center which started as a bamboo processing and designing center in 1996, has so far contributed a lot for the economic and cultural development of the tribal community. Uravu also promotes the Eco-friendly Bamboo cultivation in Wayanad which needs only minimum capital investments and care. The encouragement from the organization could wake-up the inherent plant cultivation skills of local farmers. Such business focused approach on bamboo products by the organisation is capable to rejuvenate the rural economy. By encouraging bamboo plantation and bamboo crafts, the organization could convert many degraded lands in Wayanad to useful ones.
Growing bamboo can also prevent soil erosion. The products made of bamboo are Eco-friendly and they don't harm the environment when compared to the non bio-degradable and synthetic materials. The bamboo-based economy can also help the rural community to re-establish its control over natural resources. The products designed and manufactured by Uravu are available from their sales outlets located at Pookote Lake and Thrikaipetta. The nearest town to the Uravu center is Kalpetta which locates nearly 10 kilometers apart.
Video on the bamboo craft design center

Comments