Back to Home
Battle of the Oranges festival starts in Italy on February 14th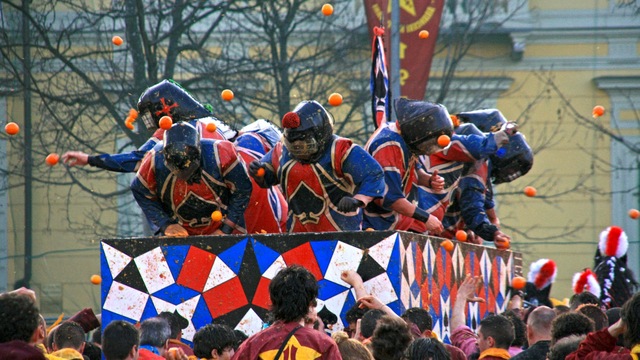 Ivrea: Battle of the oranges festival is a traditional carnival celebration in Italy.
Every year during the third week of February, the northern Italian city of Ivrea (Piedmont) celebrates the Battle of the Oranges.
This is a spectacular event, used to attract thousands of people from all over the city. Participants of the traditional celebration are divided into 9 teams and fight in a real battle, throwing oranges at each other.
According to mythology, this curious tradition represents the struggle against a cruel autocrat Duke, called the terrible Ranieri di Biandrate, who claimed the right to sleep with any bride on her first night.
Unfortunately for the Duke, a girl named Violetta not only refused to sleep with him but also cut his head off with a dagger.
That's why every year, during the Battle of the Oranges a girl is chosen in order to play the role of Violetta, while the destruction of tyrant's castle is symbolically represented by the throwing of the oranges.
The oranges are used to represent Ranieri's head. This is the largest food fight in Italy.
The festival concludes with a solemn funeral which is featured with a silent march at the end.
Traditionally, at the end of the silent march everybody have to say goodbye to everyone with the classical language phrase.
Participants are considered as the revolutionaries of this traditional fight.
Spectators are not allowed to throw oranges, even though visitors are allowed to enlist in the teams.
If they wear a red hat, they are considered as part of the revolutionaries and will not have oranges thrown at them.
In ancient times beans were used for throwing and replaced by apples later.
In the 19th century, oranges came to represent the duke's chopped off head.
Video on the 'Battle of Oranges Festival' in Italy

Comments