Back to Home
Britain's oldest Penguin celebrates her 37th birthday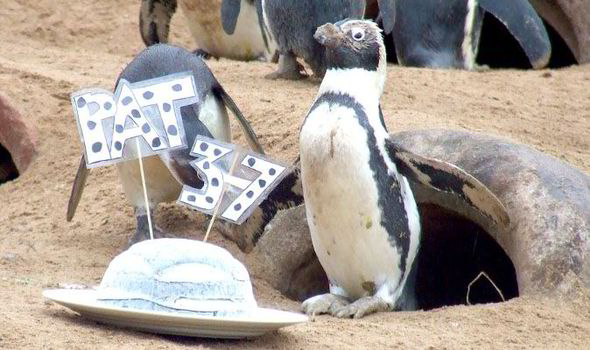 Britain's oldest penguin has entered her name to the history books by celebrating her 37th birthday.
She enjoyed the auspicious occasion with two cakes full of fish.
The 37 year old African penguin Pat is now enjoying her life at the English coast.
However she is the envy of many birds as well as humans since she shares her own private beach with attentive toy boy Eddie.
Pat could celebrate the milestone by tucking into a flower-shaped sprat cake and a blue gelatin cake filled with even more sprats.
Even at this 37th year she is very healthy and a happy looking bird.
Generally the African penguins enjoy an average life span of around 20 years in the wild.
Pat was born in Paignton Zoo in 1978 and assumed to be the second-oldest penguin in Europe.
The great-grandmother was then moved to the Living Coasts in Torquay where she has been spending her days chilling with Eddie, who was hatched at the zoo in 2001.
Pat has had nine chicks in her time. Among them, three great-grand penguins are at Living Coasts.
She was moved to the coastal zoo when the center opened in 2003.
Currently her number is known to be 1,389.
Now Zoo keepers honored Pat's long service by moving her to the fresh, seaside air.
Video on the 37th birthday celebrations of Britain's oldest Penguin

Comments