Back to Home
EU summit to think about military action on illegal migrants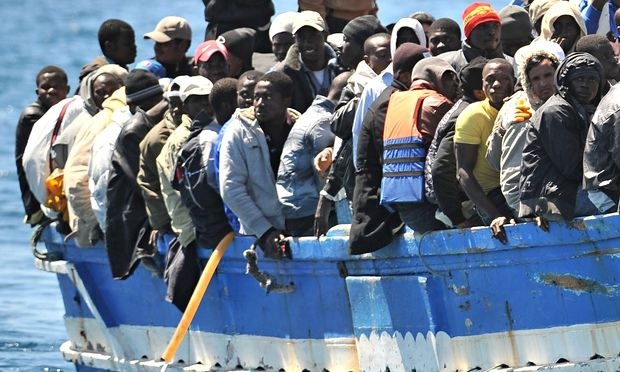 Brussels: European Union (EU) leaders gathering in Brussels will consider launching a military operation against human traffickers in Libya. The proposal is assumed to be a courageous effort to stop the infinite flow of refugees struggling to reach Europe by sea. One of the top diplomats of EU, Federica Mogherini is invited to immediately begin preparations for a possible security and defence policy operation to this effect, in accordance with the international law.
A diplomatic source said that the EU members were
preparing to approve the statement, reflecting the union's readiness to take more decisive action against people smugglers, who arrange damaged boats to be used by the overflowing people fleeing from conflict hit areas in Africa, Middle East and Asia.
Italian Prime Minister Matteo Renzi evoked the possibility of targeted operations against the Libya-based smugglers who would be fallen in short of a full military intervention.
A senior European Union official demanded the matter to be taken as serious as they have to consider legal and operational issues.
If the proposal is approved, the operation would be for the first time that the EU government allies use military force to fight illegal migration.
EU leaders will have to attend summit under huge pressure as they have to check the tide of migrants landing on European shores and provide relief measures to those whose boats run into trouble at sea.
The draft also proposes that member states provide resettlement to 5,000 migrants, but this is a small fraction of the huge number of refugees who arrive on the shores of southern Europe each year.
Turkish President Recep Tayyip Erdogan contrasted his country's hosting of two million refugees from Syria with the EU's approach to let the boats sink and leave them to deaths.
As per the estimation of Libya ship wreck, 800 victims were held up in the middle deck of the 20-meter (66-foot) converted fishing boat. The said boat was collided with a Portuguese cargo ship responding to its distress signal. One of the 28 survivors of the ill fated boat was described conditions on board as a nightmare.
The exact number of victims could not be known as the wreck sank in one of the deepest parts of the Mediterranean.
Meanwhile, 1,106 migrants are reported to have landed on Italy's shores after being picked up at sea by the coastguard, bringing the total number of refugees in the country to 70,507.
Video on shipwreck survivors of Mediterranean

Comments