Back to Home
Female bodybuilder from Arabia looks abroad for recognition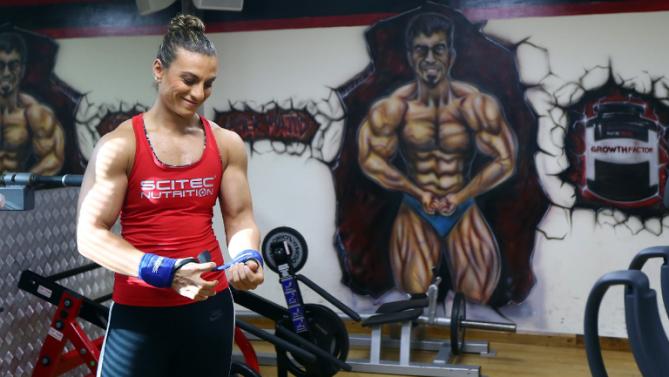 Dubai: A female Arabian bodybuilder called Haifa Musawi is now looking elsewhere for recognition.
The 32-year-old is said to have started working to reduce her obesity a decade ago after finding a personal trainer to help her in this regard.
While she was a young girl, she used to go beyond publications having articles and pictures about bodybuilding.
But as the society was not supportive, she had been in fears to go beyond body building in the beginning.
However, she started visiting gymnasium every day as it was more important for her than anything else.
Musawi's family encouraged her willpower to reduce weight and despite worrying about the supplements she decided to move on with the training program.
Within ten years, Musawi could secure several certificates from international fitness and bodybuilding associations and currently she has been working as a weights specialist in Dubai.
Now there are young men and women who used to visit her gymnasium regularly.
Recently she has secured sixth position in the physique category of the International Natural Bodybuilding Association championships.
This was a total drug-free competition held for the first time in Dubai.
At the venue, Musawi and a Jordanian woman were the only female bodybuilders from the Arab region.
She is now seeking a pro-card which enable her to take part in professional competitions around the world including the International Federation of Bodybuilding and Fitness.
But Musawi cannot represent Bahrain or any other countries in the Gulf, as there is no female national bodybuilding team to represent.
However, she has plans to travel to Portugal to obtain residency and thereby to represent the European country. She is expecting help from her Portuguese trainer Andreia Sousa in this regard.
Sousa, who had been Musawi's trainer for more than a year said that she could understand the passion of an athlete.
Video on world women bodybuilding championship

Comments