Back to Home
Hot air balloons are entered into record books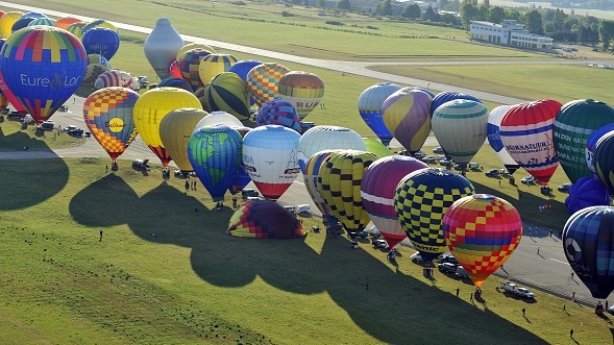 Chambley-Bussières (France): In the sky of France an eye catching memorable event with balloons are taken place.
Four hundred and thirty-three hot air balloons are lifted off from an air base in eastern France with an intention to secure a place in the record books.
The balloons used for this event were absolutely spectacular in designs such as a French chateau and rotund cartoon character Obelix.
They started their journey from Chambley-Bussieres air base to overcome the previous record for simultaneous hot air balloon flights.
Admirers from forty nations are said to have participated in the twice yearly colorful event.
The previous record was created at the same venue in 2013 when 391 balloons were sent up.
Organizer of the twice-yearly Lorraine Mondial Air Ballons event Philippe Buron-Pilatre said that a new page in ballooning history had been created.
The send off balloons were arrayed in parallel lines to a length of six kilometers (four miles) for getting them arranged for a problem free takeoff.
There are possibilities to get these balloons collide each other, something that has happened twice since 1989.
Video on hot air balloon flight

Comments