Back to Home
India objects Sartaj Aziz's meeting with separatists of Kashmir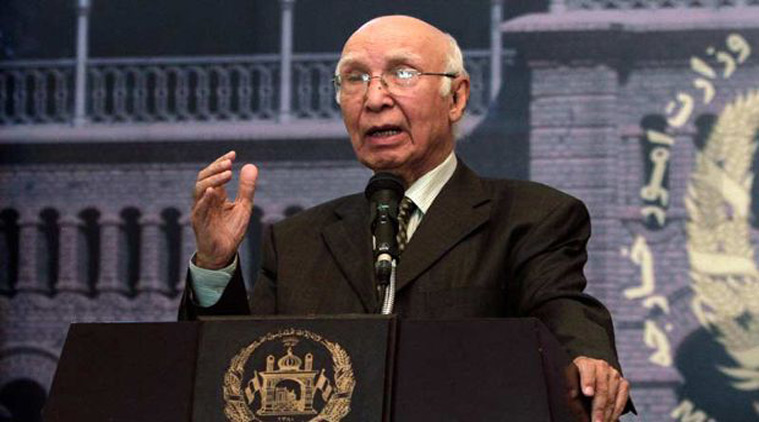 New Delhi: India has objected over the proposed meeting of National Security Adviser of Pakistan Sartaj Aziz with separatist leaders of Kashmir during his visit to India.
New Delhi has termed the move as the violation of "Ufa agreement".
According to reports, India's External Affairs Ministry has informed Pakistan about its reservations over the meeting, keeping all the options on table.
The Indian government is said to have informed to Mr Sartaj Aziz that the NSA-level talks could be canceled if he meets the separatist leaders of Kashmir during his visit.
Indian authorities had detained and then released senior Kashmiri Hurriyat leaders Syed Ali Geelani, Mirwaiz Umar Farooq and Yaseen Malik as a precautionary measure.
According to reports from Indian media, authorities in Pak Occupied Kashmir had launched a suppression in Srinagar after the Pakistani High Commission in New Delhi invited Hurriyat leaders to meet with Prime Minister Nawaz Sharif's National Security Adviser Sartaj Aziz during his visit to New Delhi.
Sartaj Aziz is being invited by Indian authorities for talks with his Indian counterpart, Ajit Doval, as part of efforts to resume the dialogue process between the two countries.
Meanwhile, Pakistan is said to have canceled an upcoming conference of lawmakers from Commonwealth countries following India demand to include legislators from Indian-held Kashmir.
Video on Pakistan's decision to invite Kashmir separatist leaders for a talk

Comments