Back to Home
Japanese parliamentarians visit war shrine condemned by China and Korea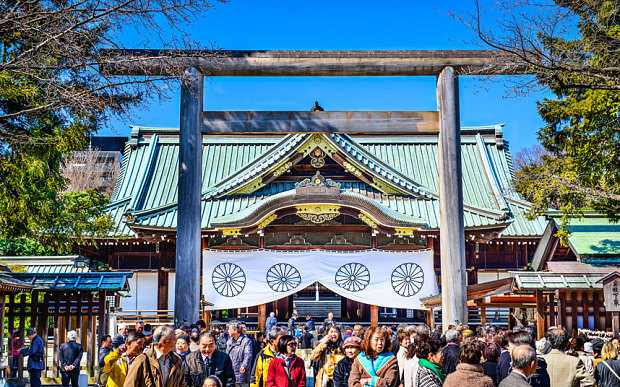 Tokyo: More than 100 high ranking Japanese officials are reported to have visited a martyr's shrine in Tokyo.
This was condemned by China and Korea as a symbol of Japan's past military history.
A cross-party group of parliamentarians comprising of 110 members are paid homage at the Yasukuni Shrine during its four-day autumn festival.
Prime Minister Shinzo Abe, who had secured irritation of Beijing and Seoul by visiting the shrine in December last year, is thought unlikely to go even after his arrival at home after an Asia-Europe summit in Italy.
Instead, he has sent a potted tree as a ritual offering to the shrine.
The 145-year-old Shinto shrine honors some 2.5 million citizens who had died in World War II and other conflicts.
The group is said to have visited Yasukuni shrine during its spring and autumn festivals as well as on the August 15 anniversary of Japan's surrender in World War II.
According to Japan's neighbors, pilgrimages there by high-profile politicians are an insult and a painful reminder of Tokyo violence in the first half of the 20th century.
No ministers in Mr Abe's current government are reported to have visited at the shrine.
According to media reports, health, labor and welfare minister Yasuhisa Shiozaki has also sent a tree to the shrine as ritual offering.
Video on the visit of martyr's shrine by Japan's parliamentarians

Comments