Back to Home
Malaysia assumes nude actions of the tourists as the reason for the recent earthquake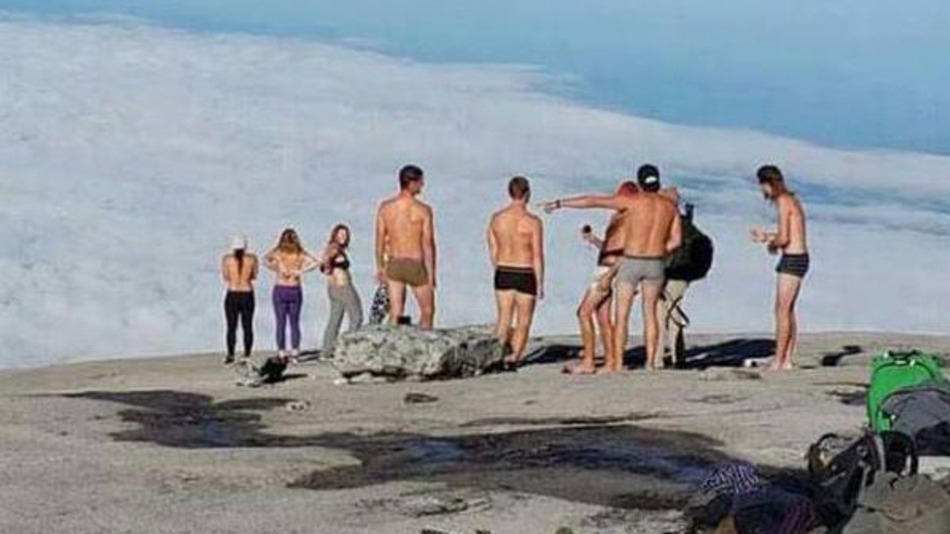 Kota Kinabalu (Malaysia): Four Western tourists are accused of being part of a group that posed nude for taking photos at the top of Mount Kinabalu in Malaysia. He is said to be remaining in custody after an early court appearance.
Authorities have revealed that the tourist group was comprised of two Canadians, a Briton and a Dutchman. They were charged of being caused public nuisance at the region.
As per the reports a 38 year old European man was arrested by the authorities for allegedly becoming naked and urinating on Mount Kinabalu. According to Malaysian law, the punishment for such an offense is a fine of 400 ringgit ($106).
The report said that the man arrested at the city's airport was trying to fly to the Philippines. He is
believed to have been the one among the group of 10 foreigners who stripped naked and posed for photos on the summit of the sacred peak.
Those pictures which posted on the Internet later resulted to the outrage of locals.
Mount Kinabalu in Malaysia is a World Heritage site and a popular trekking destination. It is considered to be sacred by Sabah's Kadazan Dusun tribal group and according to them, it is a resting place for eternal spirits.
Recently at Mt Kinabalu, there was a 6.0 magnitude earthquake during which 18 people, including children were dead. During the earth quake, about 150 hikers at the peak were enjoying the marvelous Sunrise views. In association with the calamity, there were severe landslides at the mountain peak which caused the death of the tourists.
A senior minister has blamed the tourists for ruining the sacred spirits of the mountain.
In the wake of the disaster, Malaysian social media users and some Sabah officials have focused attention on the nude photos of the tourists and suggested that their actions might have angered the spirits of the sacred location and led to the earthquake.
Video on the nudist photo controversy in Malaysia

Comments