Back to Home
Motorcyclist ties a turban while driving with no hands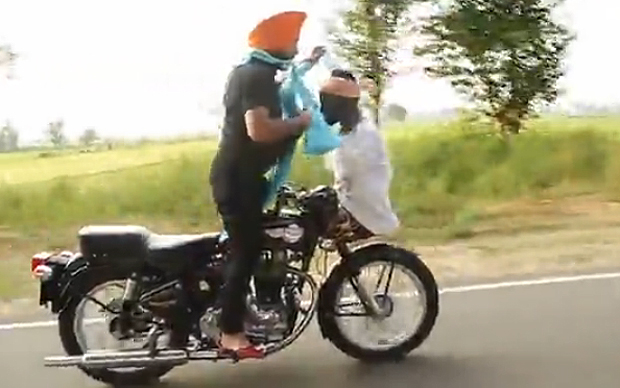 Punjab: A Sikh from India called Thind, is found expert in tying a turban while driving a speeding motorbike.
He has been nicknamed 'Speedy' for his expertise with the religious head wear and expects to raise the profile of his culture by working under extreme circumstances.
Riding on a motorcycle which was traveling over 30mph, he skillfully crafted the turban with a six meter long fabric.
Turbans wearing is common among Sikhs as a symbol of religious custom.
Generally he takes 18 to 29 seconds to tie a turban while driving a motor bike.
Mr Thind who belongs to Punjab state in India, said that he wanted to do something to show off his culture in a unique way.
Even though it was not a big event, the reactions he received were unbelievable.
According to him, youngsters around the world show keen interest in learning eye-catching ways of wearing their turbans to provide a unique look.
Video on Turban tying while riding a motor bike

Comments