Back to Home
North Korea orders troops to be alert after border-firing with South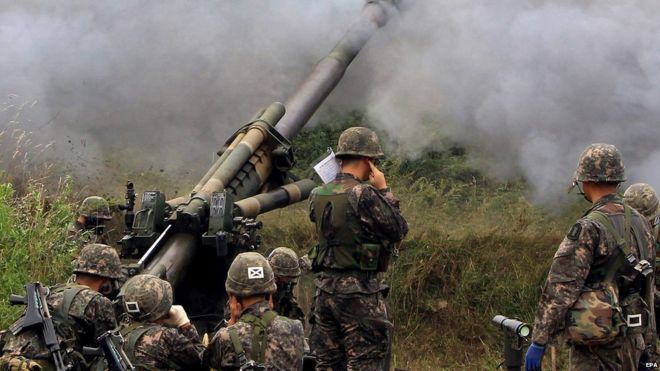 Pyongyang: North Korean leader Kim Jong-un has ordered his front line troops to be on a war status, as there was an exchange of fire at their heavily fortified border with South Korea
Report said that Mr Kim has declared a semi-state of war at an emergency meeting convened after the exchange of fire at the border.
The meeting has warned Seoul against its anti-Pyongyang border broadcasts.
They said that it would take strong military action if the South is not ready to stop their border propaganda broadcasts by dismantling the broadcasting facilities within 48 hours.
It is being reported that fierce expressive style from the North is common when there are tensions in the country and it had made similar declarations earlier also.
Mr Kim has ordered his troops to be fully ready for any emergency military operations at any time, during his meeting with the central military commission.
However, in a separate letter Pyongyang said that the country was willing to resolve the issue even though it considered the broadcasts as a declaration of war.
The tensions in the area were worsened further after North Korea shelled across the border to protest the propaganda broadcasts which restarted after suspending the same for the last 11 years.
The South responded to it with artillery fire. There were no casualties.
Following the incident, South Korea has ordered the evacuation of residents from its western border areas.
It is considered that the two Koreas are technically at war even now, because the 1950-1953 war was ended by means of a cease-fire. There was no a peace treaty between them.
South Korea and the US are now in annual joint military exercises. Even though they described the drills as defensive, North Korea believes it as a rehearsal for invasion.
Video on exchange of fire between North and South Koreas

Comments