Back to Home
Presence of mind of an illiterate mother saved hundreds from a major train accident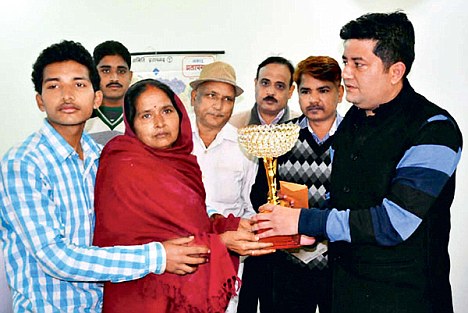 Chibila (UP): An illiterate farmer maid called Shyama Patel(48) is reported to have saved hundreds from a major train accident.
Her presence of mind has helped save the lives of hundreds of passengers traveling on the Kashi Vishwanath Express train (14257).
Shyama's son explained that his illiterate mother (48), a resident of Chilbila area of Pratapgarh, found a gap of about a foot on the railway tracks between Chilbila and Jagesarganj railway stations while she was returning from the fields.
She had no time to think about what should be done immediately.
She took off her red shawl and rushed to the spot where there was the rupture.
She was experiencing great fear since the opening on the track was enough for a terrible train accident.
When she saw a train approaching from the Varanasi side, she stood between the tracks and started tilting the shawl normally.
Although the driver noticed her and applied the brake, he could not avoid the engine crossing the broken section of the track.
But, fortunately the train stopped without occurring any danger.
The Pratapgarh district administration of Uttar Pradesh felicitated the woman for her timely and courageous deed.
Video on the Kashi-Viswanath Express Train

Comments