Back to Home
President of Chile plans to lift ban on abortion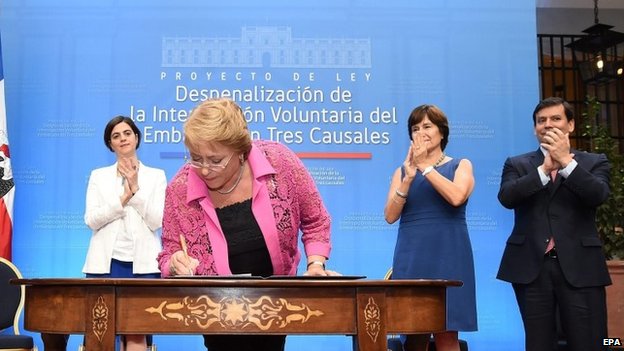 Santiago: Chilean President Michelle Bachelet has announced her plan to lift ban on abortion existing in the predominantly Roman Catholic country.
Ms Bachelet has brought a bill in Congress to legalize abortion in the country. But the rule is applicable only in cases of rape or whenever there is a threat to the life of expecting mothers and babies.
According to Ms. Michelle Bachelet the absolute ban on abortion has been creating danger to the lives of thousands of Chilean women every year.
Currently, abortion is punishable in Chile and the accused will have to face five years imprisonment.
The President was announcing her plans regarding abortions in the national television channel.
She said that as per the information received, the absolute criminalization of abortion has not stopped such practices.
So, she has decided to face the situation as the matter of a matured country.
Gideon Long from BBC has reported that the draft law has been facing resistance from the powerful Catholic Church in Chilie, from conservatives in Congress and from some individuals belong to Ms Bachelet's own coalition government, led by the Socialist Party.
Ms Bachelet's proposal would allow abortion up to the 12th week of pregnancy if the mother's life is at risk due to a poorly developed fetus or if the baby wouldn't be survived.
For girls up to the age of 14, termination would be legal until the 18th week of pregnancy.
She also thinks to allow abortion in cases of rape.
In Chile, the absolute prohibition on abortion was introduced in 1989 during the military rule of Gen Augusto Pinochet. This was one of the last acts brought by the ruler during his 17-years tenure.
Video on the lifting of abortion ban in Chile

Comments