Back to Home
The trapped horse at Shorpshire rescued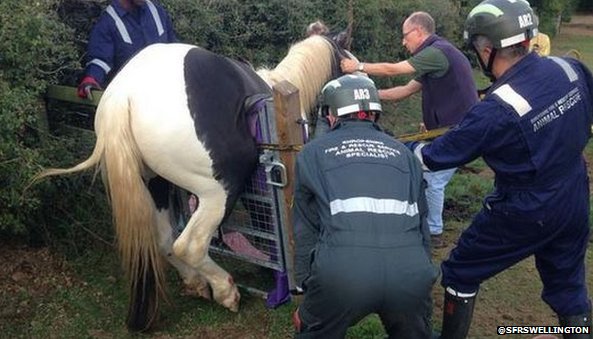 Shropshire: A sick horse which got trapped on a farm gate is pulled out to safety near Shrewsbury with the support of devices.
The ill-fated animal was found at Valeswood Lane in Little Ness.
Firefighters were called for the rescue of the animal.
The horse is thought to be trapped when it tried to jump the steel giant gate of the farm.
The animal, called Jester, was sedated by a veterinarian before crews used lifting machinery to raise it to safety.
Firefighter Craig Jackson said that the horse was walloping about quite a lot when they arrived at the spot.
The animal which was in a stressed mood, had quite a few scratches and injuries on its body. The crew managed to lift the sedated animal safely off the farm gate.
Video on the rescue of the horse

Comments