Back to Home
Workers in Dubai conduct a rare protest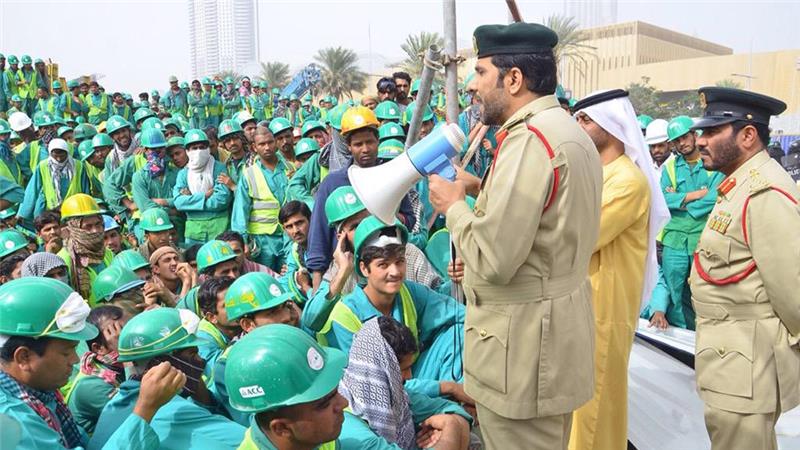 Dubai: Hundreds of migrant workers from South Asia have arranged a rare protest in Dubai over a pay dispute with a construction firm that employed them.
As per the photos posted on social media, the workers were seen blocking one of the busiest roads in the city.
Hundreds of thousands of foreigners are seen employed in the construction industry in Dubai.
It is said that many workers working in Dubai face exploitation and have little consideration to their basic rights.
Riot police were being deployed to maintain the law and order in the region.
Following the incident, public protests are prohibited in the United Arab Emirates.
Dubai's government sources said that the dispute had been resolved amicably and there were neither violence nor arrests during the protest.
The venue of the special featured protest was at Sheikh Mohammed bin Rashid Boulevard.
The agitators have been working with the Fountain Views development, which is a project on a 500-acre (202-hectare) site in central Dubai.
Protesters said that their company had stopped overtime work and pay, at a time when basic salaries were too low.
Mohammed, a Pakistani construction worker who was at the protest, told the news agency that the basic monthly salary of a worker was less than 500 dirhams (£90; $136) and if there is overtime work, it could be more than double, nearly 1,100 dirhams. The recent protest was against the removal of the overtime work.
Workers were stayed at the protest site while talks were on between police, the construction company and negotiators.
The agitators cheered and applauded when they were told that the dispute had been settled amicably. The policemen then began leaving the area.
Video on construction workers protest in Dubai

Comments