Back to Home
A new world record in 'nose typing'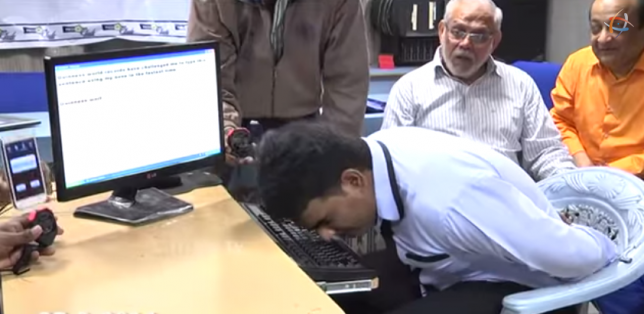 Hyderabad: A young man named Mohammed Khursheed Hussain from India has set a new world record by typing with his nose.
It is said that he had practiced for six hours a day for three years to create this thrilling world record.
Mohammed Khursheed Hussain, aged 23, displayed a spectacular typing talent by punching out 103 words on a computer keyboard and secured a new global benchmark.
He used his beak to bag the best when he typed out a 103-word sentence on the keyboard in an astonishing 47.44 seconds.
During the event he had tied up his hands at his back.
Mohammed Khursheed said that Guinness World Records were really a challenge to him and forced him to type sentences using his nose in the fastest time.
This is the reason behind the second world record being created by him.
First of his records were for typing the English alphabet in just 3.43 seconds with his fingers.
Mohammed, from Hyderabad in India were used to spend laborious six-hours daily for practicing nose typing.
He had been undergoing practice sessions for the last three years to transform his nose-typing talent as an absolutely competitive one.
By this new world record he has smashed out the previous best of a minute and 33 seconds, set in Dubai in 2008.
Video on Nose typing

Comments