Back to Home
Oriyur in Rameswaram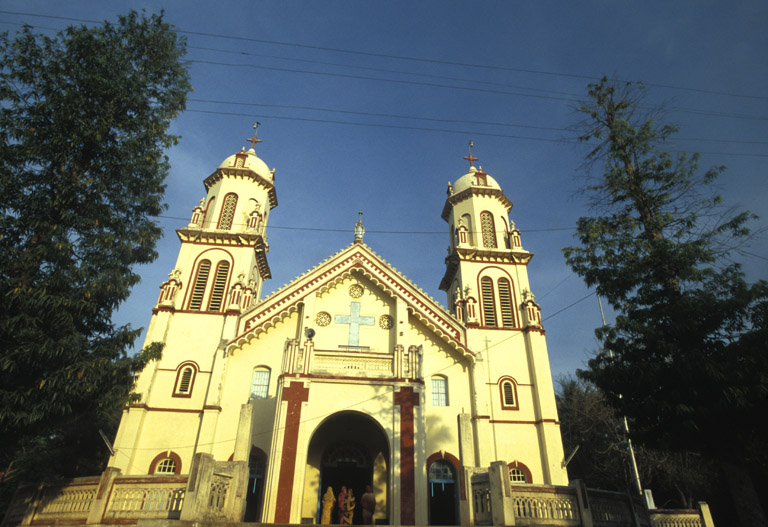 Oriyur, near the Rameswaram is a small Village in Tiruvadanai Taluk, which belongs to the Ramanathapuram District of Tamil Nadu State in India. This seashore sightseeing location is one of the most venerable pilgrim centers of Christians in the world over, as it is said to be the home of martyrdom of St. John De Britto, a Portuguese Jesuit better known as 'Arul Anandar'. It was at this place where the saint is said to have beheaded in 1693. The sand dune here is assumed to have stained by the blood of the revered saint. Here is one magnificent shrine constructed in Portuguese style and it contains a captivating statue of the saint Arul Anandar who had modestly offered his neck to the executioner.
The red sand dune here in this shrine where the blood of the massacred saint was flown has great significance as the same has got miraculous healing power. Numerous incurable diseases are said to have cured by the application of the red sand on the respective body
parts. Couples are believed to have blessed with children on visiting the shrine and praying to the departed soul. During festivities, pilgrims mainly from Tamil Nadu and Kerala participate irrespective of their cast, creed and religion. Thus, together with Christians, Hindus and Muslims also come to worship at the shrine in thousands, to mark respect to a unique holy man who shed his life and blood at that spot. The occasion appears to be more as a social gathering rather than a religious festival. The auspicious ceremony is a rare opportunity for these simple people to bring gaiety and enthusiasm in their life. The strong faith and enviable ability to combine pleasure and righteousness on a pilgrimage gives a divine atmosphere to the Oriyur fest.
Devotees from other dioceses and districts visit the shrine on specific dates. In February, believers from Dindigul arrive while in June, they are from Karunguli and Nagapattinam. During September more than 25,000 pilgrims used to visit the shrine for dedicating prayers and offerings. In October, nearly 25,000 pilgrims arrive from the neighboring Sivagangai district and in December, visitors are from Madurai and Melur. Throughout the year, thousands of pilgrims from Sakthikulangara, the only parish in Kerala, visit the St. John De Britto shrine to seek the unique blessings.
This is also an ideal place for foreign tourists belong to various classes. The tourist potential here in this location is tremendous and recurrent, and can be utilized to the maximum possible extent.
Video on the Oriyur Church in Rameswaram

Comments