Back to Home
Severe sandstorm in Beijing makes the life horrible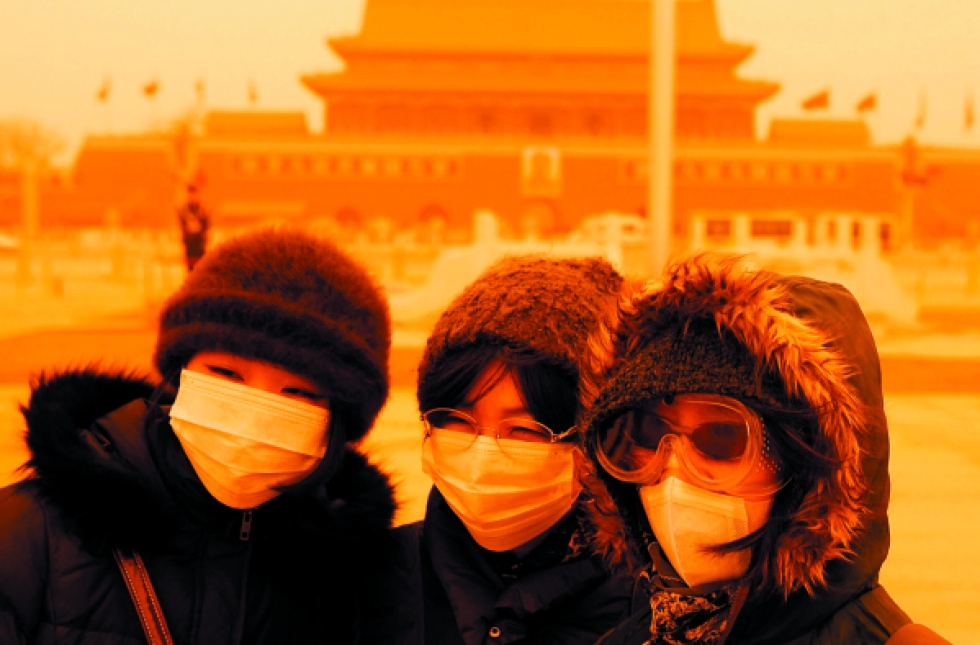 Beijing: Northern regions of China are reported to have hit by severe sandstorms which covered the cities in dust and forced the road traffic to slow down. Majority of the Beijing was blanketed by the worst sandstorm of the years. The heavy sandstorm which blanketed Beijing is assumed to have blown from areas belong to inner Mangolia.
Beijing skyline was appeared similar to an orange color in the afternoon because of the sandy weather. As it is considered to be most dangerous to human health, many pedestrians were forced to wear masks for protecting themselves from the dusty wind.
When the strong winds carrying dust were blown, visibility across the Xinjiang Uyghur Autonomous Region in the northwest of the country was dropped to less than ten meters around the areas of southern basin causing electricity blackouts as well as traffic chaos. In many of the affected cities, the road visibility was reduced to a length of less than seven hundred meters.
The neighboring province of Hebei is also reported to have experienced this year's first sandstorm.
Many residents were rushed home, fearing the possibilities of a traffic deadlock. Following the sandstorm, the national observatory has issued a sandstorm yellow alert saying that the visibility would drop below 1,000 meters.
According to the Legal Mirror report, the current sandstorm in Beijing was the worst in 13 years. Strong winds are still expected in the capital region.
National Meteorological Center has reported that parts of Xinjiang, Inner Mongolia, Ningxia, Tianjin, Gansu, Shaanxi, Shanxi, Hebei and Jilin were also badly affected by the dust wind. Strong winds were expected during the sandstorm as the temperatures in Beijing were risen to the maximum levels this year. However, authorities have now warned people to stay indoors.
Those who were ventured outside during sandstorm could post erie, red-tinged photos online showing dust smeared outlines of buildings and even people. One Internet user has exclaimed the situation as absolutely dirty. He said that the situation might be the end of the world.
Another who experienced the sandstorm wrote that he felt as if he was living in a desert. He said that he was wondering about the survival from such a bad weather.
In another development, a strong cold wind is reported to have swept across north China including areas along the Yellow and Huai rivers. It has created a temperature drop of about 12 degrees Celsius in the region.
China's top weather official has issued an unconditional warning on climate change, saying that the temperature rise will have "huge impacts" on the world's most populous country.
Video on sandstorm blown in China

Comments